McDaniel Women's Track 2003-04 Sophomore Year

03/27/2004 Bridgewater Invitational
Bridgewater, VA — TRACK: Bridgewater Invitational Results
Welcome Back Costa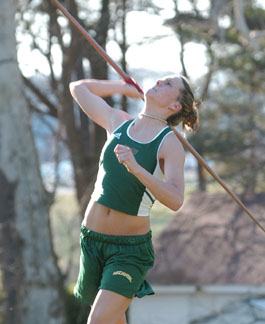 After leading McDaniel's basketball team to the Sweet 16, Kristy Costa got her first taste of track season. The sophomore from Galloway, New Jersey, won the Javelin with a throw of 117 feet even at the Bridgewater Invitational. She also managed a second place finish in the discus with a mark of 115'11″. Both the McDaniel men's and women's teams had an outstanding weekend at the non-team scoring event.
---
 04/03/2004
Richard Stockton Osprey Invitational
Pomona, NJ — TRACK: Results From Osprey Open
Women High Jump
Kristy Costa McDaniel College 1.37m 4-06.00
Women Long Jump
Kristy Costa McDaniel College 4.68m 15-04.25
Women Shot Put
Kristy Costa McDaniel College 10.30m 33-09.50
Women Discus Throw
Kristy Costa McDaniel College 32.02m 105-01
Women Javelin Throw
Kristy Costa McDaniel College 32.21m 105-08
The women were highlighted by a first place in the 400 by Rachel Goodwin (63.01), a win in the 200 dash by April Brown (26.89), and a first in the javelin throw by Kristy Costa (117′).
---
 04/07/2004
Messiah Quadrangular
Men: 3rd of 6
Women: 2nd of 6
Grantham, PA — TRACK: Terror Outstanding at Messiah
Sophomore Kristy Costa turned in second place performances in the long jump (4.50), discus with a seasonal best mark of 119'2″, and javelin. Sabrina Putro finished in second in the shot put (34'6.75″), and third in the discus with a throw of 106'0.5″.
---
 04/17/2004
Mason-Dixon Invitational
Women: 2nd of 9 Teams
Gettysburg, PA
The women finished the afternoon with four marks good enough to be ECAC qualifiers. Kristy Costa rounded out the ECAC qualifiers with a javelin throw of 118'1.". McDaniel swept the top three spots in the javelin with Sabrina Putro and Beth Rudolph taking second and third place with throws of 94'10" and 91'2" respectively. Putro won the shot put competition with a mark of 35'1", while Costa finished in third on the strength of a 34'10.5" throw.
---
 04/30/2004
Centennial Conference Championship
Men: Third of Nine Teams
Women: Fifth of Ten Teams
Swarthmore, PA — TRACK: Costa Earns Outstanding Performer at CC
Championships
Sophomore Kristy Costa (Galloway, NJ / Absegami) was named the Centennial Conference's Outstanding Field Performer to cap an outstanding weekend for McDaniel College at the Conference's Championship meet. The men's team finished in third place in the nine-team field while the women finished in fifth in a ten team field. Aside from taking the Heptathlon and discus on Saturday, Costa finished in second place on Sunday afternoon in the javelin throw. Costa's mark of 121'01" was four feet short of the winning throw from Muhlenberg's Sarah Mitchell, but was a solid 10'9" longer than the bronze medal toss.
Kristy Costa (Galloway, NJ / Absegami) posted 3,982 points in the Heptathlon to establish a new school and Centennial Conference Championship meet record on the second day of competition. Costa also won the discus with a 113-'04". Her McDaniel College women's track team sits in seventh place in the nine-team field following eight scored events.